It's that time of year again… Bathing suit shopping time!! For the past few days I've been out worshipping the sun in an attempt to return to my former bronze glory, and the number one accessory for that is obviously a fabulous suit. Well, besides sunscreen. ALWAYS wear your sunscreen!
I've picked out a variety of suits and silhouettes from the season that will fit any and all budgets and styles, so pick one out and get to the nearest body of water ASAP!
The One Piece
I absolutely adore one pieces, they're classy and always stand out amongst the sea of bikinis. Here are a few selections for when you want to feel extra glamorous or when you're just feeling a little more modest.
The Bikini
I mean it's not summer without an itsy bitsy teeny weeny yellow polka dot bikini, right? Well, color is irrelevant… the point is, we all need a bikini. Besides, they're much better to tan in.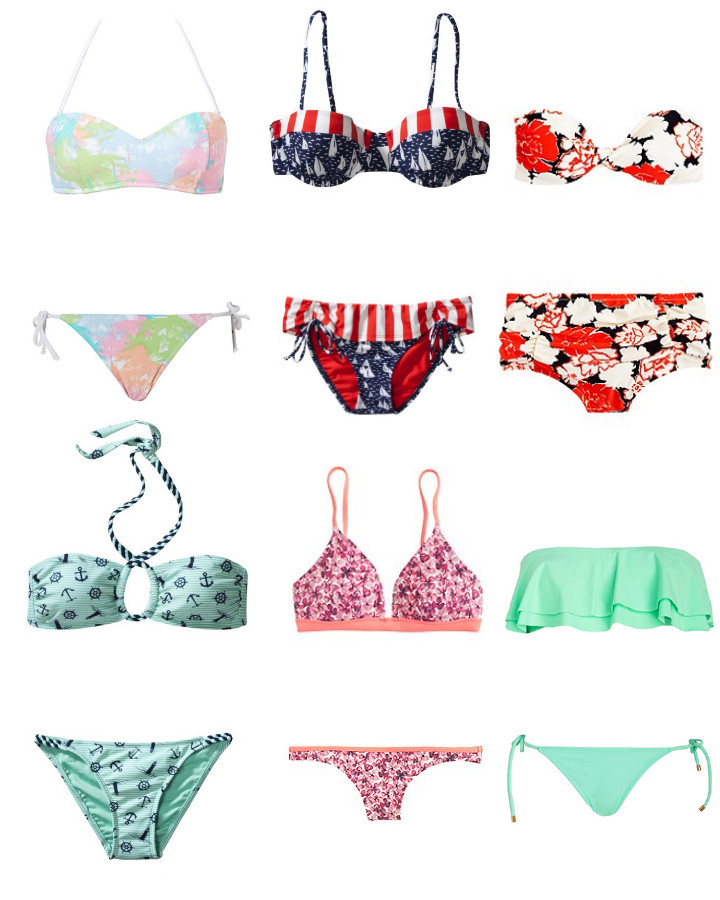 1:top, bottom // 2:top, bottom // 3:top, bottom // 4:top, bottom // 5:top, bottom // 6:top, bottom
Retro
The retro bathing suit is back in a big way, so channel you inner Marilyn (I prefer Jackie) and hit the beach in one of these!! Be sure to check out the selection at ModCloth too.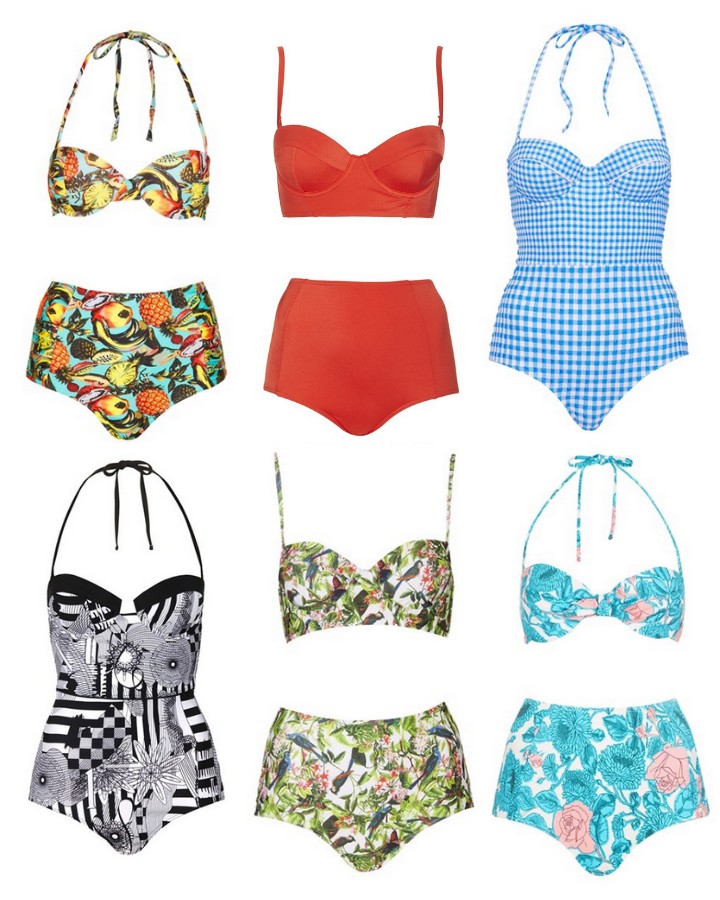 1 // 2: top, bottom // 3 // 4 // 5 // 6
Creative Cuts
Now I really don't know if I could pull any of these off or if I'd even want to try (I mean can you imagine the tan lines?? Ew) but I will admit that I'm mildly intrigued.
My absolute favorite dessert is pie of any kind, but pecan pie and key lime pie get the top slots in my pie hierarchy. Pie-erarchy? Peach pie is a strong third and pumpkin and lemon meringue round out my top five. But I digress. Pie-gress? No really, I'm done making pie puns. For now.
The warm weather and spring sunshine were just begging for a good key lime pie, and it just so happens that it's the perfect Easter dessert idea! I mean gosh, it's even pastel colored. Here's my top-secret recipe for the best key lime pie in the world… and if you want bonus dessert points, try my Lemon Bundt Cake too!! Can you tell I have a thing for citrus?
Crust
Ingredients:
2 cups crushed graham crackers
1 tablespoon brown sugar
4 tablespoons unsalted butter (1/2 stick)
Instructions:
Preheat the oven to 350 degrees
Crush 2 cups worth of graham crackers into fine crumbs. I just put them into a plastic bag and roll them with a rolling pin or an empty wine bottle. I always have both around!
Mix the graham cracker crumbs and the brown sugar in a medium mixing bowl.
Melt the 4 tablespoons of unsalted butter and pour it into the crumb mixture. Thoroughly mix it until all the crumbs are moist. The best way is by hand… don't be afraid to get those hands dirty!
Spread the crumb mixture evenly in a standard 9 inch pie pan. Make sure you spread it all the way up the sides too, using your hands to press it firmly into the pan.
Bake for 10 minutes, then set aside so you can make the…
Filling
Ingredients:
1/2 cup freshly squeezed key lime juice
Pinch of key lime zest
1 14 oz can sweetened condensed milk
1 small container lime flavored yogurt
Instructions:
Squeeze 1/2 cup of juice from fresh key limes. Don't underestimate how many limes this will take, key limes are tiny!! You'll probably need about 20 for the whole recipe. Also, don't underestimate how sore your fingers will be at the end of this. The pie is worth it though, trust me.
Pour the juice into a mixing bowl, making sure to strain out any seeds or pulp.
Grate a dash of zest into the bowl to taste. I usually do 1/4 teaspoon or less, as it's already quite flavorful.
Pour in the can of condensed milk and mix thoroughly with an electric beater.
Add the container of lime yogurt and continue to beat the mixture.
When it's thoroughly mixed, pour the filling into the crust and set aside so you can make the…
Meringue Topping
Ingredients:
4 egg whites
1/2 teaspoon cream of tartar
1/2 cup white sugar
Juice of 1 key lime
Instructions:
Separate the egg whites into a mixing bowl. Add the 1/2 teaspoon of cream of tartar and beat on high until the egg whites are fluffy and form peaks.
Add the 1/2 cup of sugar and lime juice and continue to beat until the mixture is glossy and stiff.
Pour it on top of the filling in the pie crust, using a spatula to lightly spread it. Make sure the surface is evenly covered.
Use your spatula to lightly texture the topping, those peaks and swirls look so pretty when they brown in the oven!
Bake it on 350 for about 15 minutes or until the top starts to brown.
Take it out of the oven, let it cool slightly, then refrigerate before serving.